Founded in 1997, HARDATA is a premier developer of workflow solutions that streamline audio, video and text asset management for radio stations, TV stations and entertainment enterprises. Our mantra is "simple, elegant and always reliable".
HARDATA solutions are always designed to "play well with others", highly compatible with standard IT hardware used in broadcast and Pro/AV operations. Our company has formed strategic alliances with many of the most recognized companies in the technology industry – including Microsoft, Grass Valley, Leitch, Antex, AudioScience, Matrox, Mayah, Orban, 360 Systems and other international firms.
HARDATA's commitment to total quality and management excellence is reflected in our ongoing investment in R&D which drives the company's philosophy of continuous improvement in all areas. HARDATA's processes and quality management system are ISO 9001:2008 accredited..

cache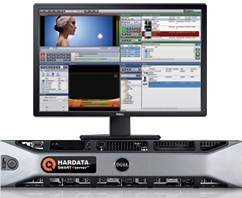 The HARDATA PLAYOUT 6120 includes everything you need to launch and manage a channel – ingest, content management, transmission control, interfacing to traffic monitoring and playout.Simple and friendly interface. CG and Branding with animated logos, sockets, flash animations, CG with scroll (V & H), time and temperature.
---