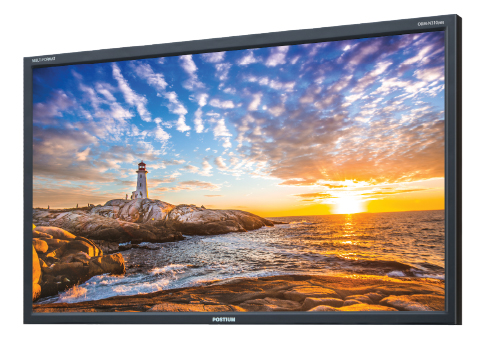 32″ Wall Monitor with Narrow Bezel
Optimized design for OB Van

The Postium OBM-N310-NB designed for mobile HD/SD broadcast and motion picture production monitoring applications. The OBM-N310-NB offers a 31" narrow-bezel design for mobile studios with capable and affordable HD – HDR monitoring. The OBM-N310-NB accepts up to 1080 60P signals displayed at native 1920×1080 resolution and is equipped with a standard 3G/HD-SDI input interface (x2) as well as an HDMI 1.3a input and analog component/composite I/O.Closed Captioning decode and display for CEA-708(HD-SDI closed captioning standard) and CEA-608(SD-SDI closed captioning standard) is supported via SDI input.

Weight: 31.96 lbs
Dimensions: 29.37 x 17.35 x 2.89 in
Input Resolution: SD/HD/2K
Screen Size: 32″
Native Resolution: 1920×1080

Display Functions

High Dynamic Range (HDR) Emulation applies a High Dynamic Range display gamma curve to HDR content. The OBM-N310-NB supports PQ EOTF (SMPTE ST 2084), Hybrid Log Gamma and S-Log3. Postium's HDR function allows users to view both highlights and shadow details within scenes simultaneously, thus resulting in more natural and realistic reproduction.