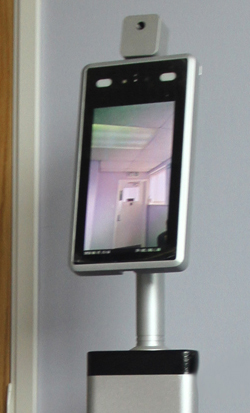 KAUTO Temperature Measurement, Mask Detection and Face Recognition camera
Main features
Non-contact automatic body temperature detection
Fast Deployment- works from the box
Temperature measurement range 30-45 (℃) Accuracy ± 0.3 (℃)
Automatically identify unmasked personnel
Unique face recognition algorithm to accurately recognise faces, face recognition time <500m
Can control barriers using Wiegand
7-inch IPS HD display
IP54 rated dust and water resistant
Wall or floor Mount available
 CHECK IT OUT ON THIS VIDEO
Non-contact automatic body temperature detection with Mask detection and Face recognition. Fast and efficient.
•Temperature measurement range 30-45 (℃) Accuracy ± 0.3 (℃)
•Automatically identify unmasked personnel and provide real-time warning;
•Supports real-time early warning of high temperature;
•Supports temperature data SDK and HTTP protocol docking;
•Automatically registers and records information, thereby, avoiding manual operation. This helps to improve efficiency and reduces risk of missing information.
•Unique face recognition algorithm to accurately recognize faces, face recognition time <500ms
•Supports human motion tracking exposure in strong backlight environment, support machine vision optical dynamics ≥80dB;
•Adopts Linux operating system for better system stability
•Rich interface protocols, support SDK and HTTP protocols under multiple platforms such as Windows / Linux
•7-inch IPS HD display
•IP54 rated dust and water resistant
•MTBF> 50000 H
•Supports one Wiegand input or Wiegand output for barrier control
•Supports fog-through, 3D noise reduction, strong light suppression, electronic image stabilization, and has multiple white balance modes, suitable for various scene needs
•Supports electronic voice broadcast (normal human body temperature or super high alarm, face recognition verification results)
•0 ℃ to + 50 ℃ environment long-term stable work