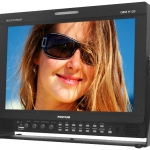 New Postium OBM-H120 12″ Super Bright Monitor
The Postium OBM-H Series are designed for daylight monitoring in HD/SD broadcast and motion picture production monitoring applications. The OBM-H120 utilises a 12.1" 1280×800 resolution LCD with a maximum luminance output of 2000 cd/m².
The OBM-H Series accepts up to 1080 60P signals scaled to native resolution and is equipped with standard 3G/HD-SDI input interfaces (x2) as well as an HDMI 1.3a input and analog component/composite I/O.
Closed Captioning decode and display for CEA-708(HD-SDI closed captioning standard) and CEA-608(SD-SDI closed captioning standard) is supported via SDI input.
High Dynamic Range (HDR) Mode applies a High Dynamic Range display gamma curve to HDR content. The OBM-H Series supports PQ EOTF (SMPTE ST 2084), Hybrid Log Gamma and S-Log3. Postium's HDR function allows users to view both highlights and shadow details within scenes simultaneously, thus resulting in more natural and realistic reproduction.
Features·

2000cd/m² Super Bright Screen
3G/HD/SD-SDI 2 Channel
HDR 1000cd/m²
3D-LUT for Accurate Color Reproduction
Camera Log Conversion
Camera Log Mapped SDI Loopout
Custom 3D LUT File Import Through USB
Gamma Selection (1.0 ~ 3.0)
Color Temperature(3200K, 5500K, 6500K, 9300K, USER 1/2/3, D-CINEMA)
Compare Color Settings (Side by Side)
Waveform, VectorScope (Wave + Vector, Waveform Wide, Position Change, Size Adjustment)
Monitor Control via Ethernet, RS-422
Various Markers (EBU, 4:3, 16:9, 1.85:1, 2.35:1, Variable etc.)
Internal Patterns Display for Color Test (Black ~ 100% White, Color Bar)
Time Code Display (Position / Size Selection)
Easy Firmware Update by USB
HDR & Camera Log Comparison
Fast Mode
Focus Assist
HDR Waveform
Zero Scan / 1:1 Scan
H/V Delay
Blue/Mono Only
IMD
De-embedded 8~16ch Audio Level Meter
Remote Control via GPI(RJ-45) Port
False Color(Zebra, Color Pattern, ARRI)
Gamut Error
3 Color TALLY Lamp
Rack & VESA Mount (Option)
Closed Caption(608, 708)
System Data Copy
Key Lock & Password Lock
Aspect
Freeze