CVW Swift 800 HD wireless system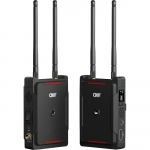 The Swift 800 is an indoor video link system for Full HD transmissions up to 250 m (800 ft) away. The video link operates without DFS, allowing the radio frequency in the 5 GHz range to be manually selected to bypass sources of interference. Both transmitter and receiver have an HDMI connection, which transmits video material up to 1080/60p with a latency of 60 to 70 ms. The supplied accessory shoe mount allows the transmitter to be mounted directly on the camera. The transmitter and receiver are powered either by Sony NP-F rechargeable batteries (NP-F970 or similar) or the supplied 12 V AC adapter.
Offering great affordable HDMI wireless transmission with very low latency and a true 800ft range, it is ideal for portable HD video equipment with HDMI outputs such as video cameras, DSLR cameras, etc.
Technical Specifications:
Antenna Mode: 2×2 MIMO
Modulation Type: OFDM
Chanel Bandwith: 20 MHz
Operating Frequency: 5 GHz (EU: 5150 – 5250 MHz / 5725 – 5825 MHz)
Transmission Range: up to 250 m (800 ft, line of sight)
Latency: 60 – 70 ms
Video Processing: 4:2:2, 8-bit
Supported Video Formats:
Full HD – 1920 x 1080p / 23.98 / 24 / 25 / 29.97 / 30 / 50 / 59.94 / 60 (59.94 is output as 60; 25 / 23.98 is output as 24)
Full HD – 1920 x 1080i / 50 / 59.94 / 60 (59.94 is output as 60)
HD – 1280 x 720p / 50 / 59.94 / 60 (59.94 is output as 60)
Supported Audio Formats: PCM