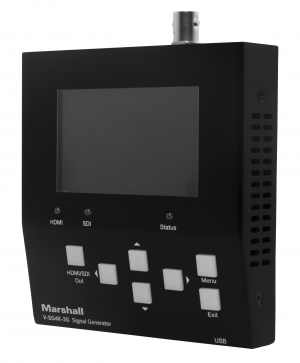 With the advent of economical digital solutions to the requirements of broadcasters and programme makers, the need to ensure that the equipment is outputting the best quality achievable becomes more important and more difficult to establish when shooting on location or when time is of the essence.
Lower priced recording, editing, playback and monitoring equipment must be checked as accurately and economically as possible to ensure that it is fully compliant and satisfies the engineers responsible for their performance.
Marshal, the US based manufacturing company located in El Segundo, California has a long history of introducing products that the market needs at the right time and true to form, the latest offering provides unparalleled flexibility.
Available now from UK distributor Cache Media Ltd, The Marshall V-SG4K-3G is a test pattern signal generator that can quickly and easily test HDMI and SDI video and audio equipment out in the field as well as in the studio. Compact, hand-held design makes it easy to test many different kinds of equipment while on the go. It can generate up to 39 different test patterns plus four additional custom patterns. With a 3-inch LCD screen for clear test pattern viewing, forward-facing buttons, and the ability to be controlled via PC, the V-SG4K-3G formats HD up to 1080p60 (4:4:4, 4:2:2 sampling) and UHD 60Hz (4:2:0 sampling) with SDI formats up to 1080p – All via HDMI.
The V-SG4K-3G has a fast startup and an optional battery pack for increased portability, and can incorporate custom frame rates and resolutions when controlled through a PC. The V-SG4K-3G also comes equipped with EDID interface software to read, store, and offload EDID information from display devices. It also generates cinema frame rates 23.98 and 24.00, Quick check patterns for VR / 3D as moving patterns quickly reveal dropped frames, judder or smear.
The V-SG4K-3G is ideal for production line quality assessment and studio equipment testing for both installers and users. The software control app connects via USB or RS-232.and it uses a supplied 5 volt power supply with an optional battery supply.