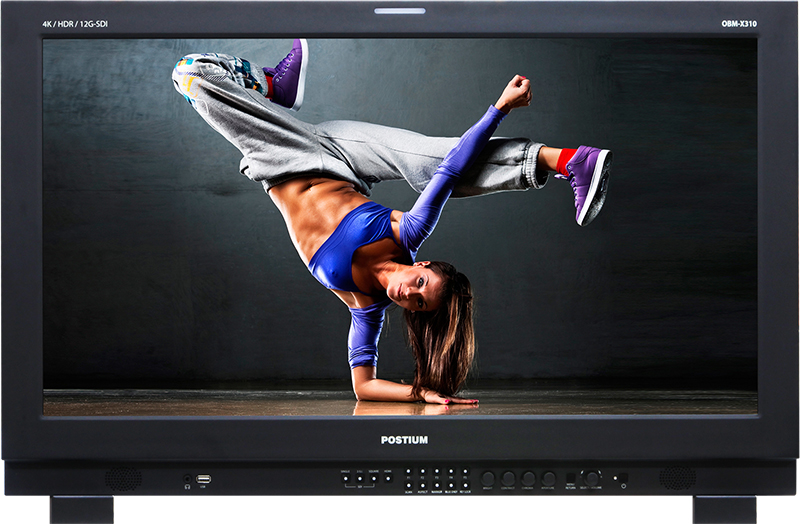 New Postium OBM-X310 monitor has the Wow! factor
Postium. Stand no. 11.A09. Seoul based Postium Korea will be showing their full range of professional broadcast monitors including their new, flagship monitor; the OBM-X310 which attracted a lot of attention at NAB as well as a rush of orders. A trusted supplier of professional broadcast, movie and studio equipment worldwide for over ten years, Postium's combined technology and expertise has enabled them to develop, engineer and manufacture a class leading range of LCD rack monitors, from 7" to 55", now widely used worldwide and of which the OBM-X310 is the latest culmination.
MD of Postium's UK Distributors, Cache Media Stuart Cameron said: "The OBM-X310 is a versatile HDR reference monitor, designed for professional production and postproduction work. The new monitor offers the outstanding performance and several unique and advanced features, including superb black with 1,000,000:1 High Contrast ratio. I am confident it will become one of the most desirable monitors for the production industry."
With too many features to list here, the OBM-X310 supports various HDR gamma curves, such as PQ, HLG, S-Log3. It features a wide viewing angle IPS panel, 4096 x 2160 17:9 aspect ratio, 1000cd/m² High Brightness, wide colour gamut and its HDR function allows users to view both highlights and shadow detail of screen at the same time, thus resulting in more natural and realistic images. The OBM-X310 supports PQ(ST 2084), HLG(Hybrid Log Gamma), and S-Log3, making it ideal for colour grading in a mastering suite. Also, whereas OLED monitors run the risk of 'burn in' of the image sticking on a screen even when the content changes, The OBM-X310 employs a state-of-the-art LCD panel and is free from the burn-in effect.
The OBM-X310 allows the user to import 3D Look-up tables for accurate and consistent colour matching between individual displays as well as using customised 'looks' that have been created by 3rd party colour-grading applications. 32ˆ³, 33ˆ³, 64ˆ³ and 65ˆ³ cube file is supported.
Among many other features is so called 'Black Stretch', which increases the visibility of subjects in dark areas, without degrading image quality in bright areas. This mode can be used to increase shadow detail without changing the absolute black level, and without affecting mid-tones. With accurate colour reproduction, it also provides for industry-leading wide colour gamuts, fully supporting DCI-P3 Colour Space with PQ(ST 2084) 1000nit HDR.
The OBM-X310 can also be connected via Ethernet connection and controlled remotely on the network. It has Dual SFP Module Inputs supporting Quad-Link 4K over IP with dual SFP Input cages, which enable the monitor to accept and display Quad-Link square division and 2-Sample Interleave 4K signals over IP supporting SMPTE ST 2022-6.
For full details of the many capabilities of this new monitor and to see the full range of sizes available, please Visit the Postium stand in Hall 11 No. 11.A09 or contact Cache Media Ltd.