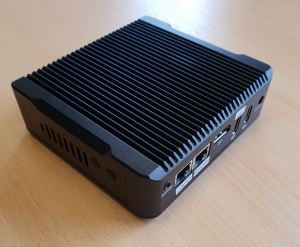 At NAB 2018, the hot topic was NDI. NDI, or Network Device Interface,is a royalty free standard developed by NewTek™ to enable video-compatible products to communicate, deliver, and receive broadcast quality video in a high quality, low latency manner that is frame-accurate and suitable for switching in a live production environment. The protocol is designed to be highly robust and is used in many network-connected video devices. It has been widely adopted and the installed base for NDI exceeds 1 million users.
One of the first companies to address the requirement of Converting/Decoding NDI streams for use is specialist DVEO which has launched its Mini D-Streamer™ available now from DVEO's distributor in the UK, Cache Media Ltd.
Cache Media MD Stuart Cameron said: "DVEO has really stolen a march on other companies in this field by providing the perfect solution to those wanting to utilise this groundbreaking Protocol just as NDI has really hit the headlines."
Tiny in size (just 5.5 inches), the Mini D-Streamer™ is an NDI to HDMI video and audio decoder/ converter for NDI. It is quick starting, embedded Linux® based and remotely manageable. Streaming in real time, it is ideal for receiving and decoding live NDI video from remote sites, content delivery networks (CDNs), or NDI compatible appliances.
Streaming video via Flash, HLS, or RTSP has emerged as a very efficient methodology for delivering SD and HD content over the public internet. Until now there were not many decoders/receivers that decode incoming NewTek™ NDI® streams to HDMI. The Mini D-Streamer NDI®/HDMI™ is designed to address this need and deliver a professional d-streaming and decoding device for the public internet. The Mini D-Streamer NDI®/HDMI is a real time H.265, H.264, or MPEG-2 decoder that receives NewTek™ NDI® IP transport streams and decodes them to HDMI. The system is ideal for converting NDI®IP streams from anywhere into HDMI streams. Remote management and multi level security is built in.
In addition to the Mini D-Streamer DVEO produces other NDI encoders/decoders which are also available from Cache Media. see www.cache-media.com/?p=2697