Mini D-Streamer™ IP/HDMI Tiny (5.5 inches), real time, quick starting, embedded Linux® based, remotely manageable, SD or HD, H.265/HEVC or H.264/AVC video and audio decoder for receiving live streams with most any TS protocol IP input. Supports HLS, HTTP, RTSP, HTML, or RTMP (pushed from Flash server) in and converts the H.265, H.264 AVC, or MPEG-2 compressed digital video and audio into professional digital HDMI output. Audio support for AAC, MPEG Audio, or AC-3. Decodes at .1 to 15 mbps. Ideal decoder for receiving and decoding of streaming video from remote sites, content delivery networks (CDNs), or IPTV compatible appliances or players. Tested to work over public Internet, WiFi, and other RF backbones.
Streaming video via Flash, HLS, or RTSP has emerged as a very efficient methodology for delivering SD and HD content over the public internet. It occurred to us that there are not many decoders/receivers that decode incoming "wrapped" streams to HD and SD. The Mini D-Streamer IP/HDMI™ is designed to address this need and deliver a professional d-streaming and decoding device for the public internet. The Mini D-Streamer IP/HDMI is a real time H.265, H.264, or MPEG-2 decoder that receives IP transport streams and decodes them to HDMI. It accepts a wide variety of IP protocols, wrappers, and containers but is highly tuned for HLS and RTSP. The system is ideal for converting IP streams from anywhere into HDMI streams. Broadcasters and content providers can use our MiniStreamer™ HDMI/IP or MultiStreamer™ HDMI/IP to encode HDMI to H.264 IP or H.265, then decode the streams with the Mini D-Streamer IP/HDMI. This embedded Linux® based unit is designed to be affordable, scalable, and extendable. Modifications to video formats are easily created. Remote management and multi level security is built in. DVEO's "DOZER™" provides automated UDP Packet Recovery Technology and can be added to the D-Streamer to achieve error-free real-time video delivery to MSO, cable operator, Affiliate, or regional head ends when paired with a DOZER equipped encoder.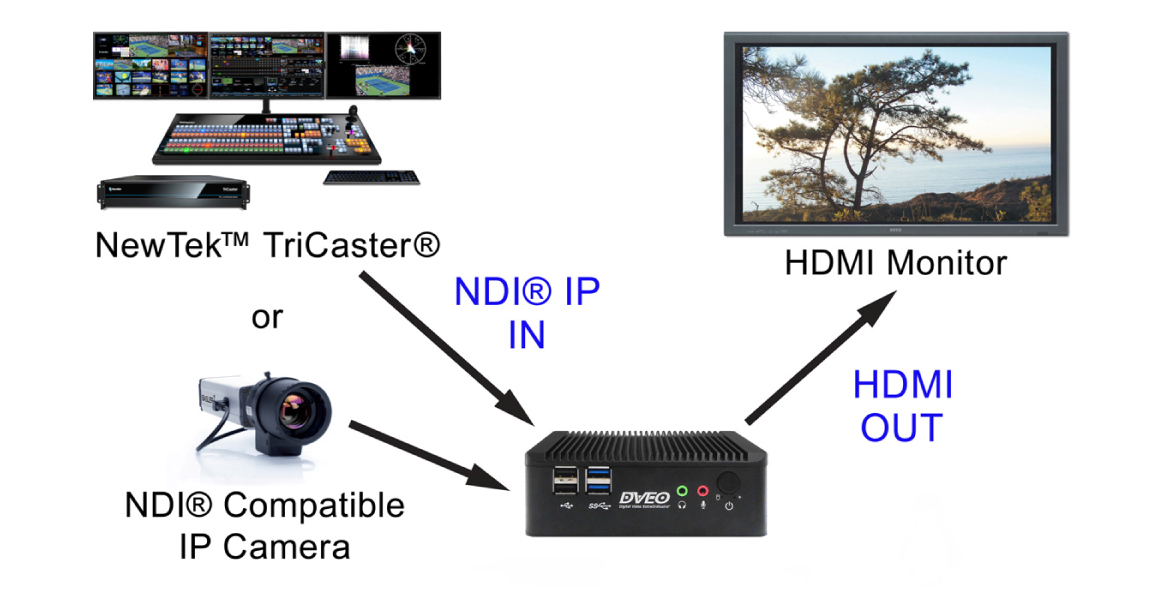 Features
 Supports both HD and SD H.265/HEVC, H.264/MPEG-4 AVC, or MPEG-2 decoding
 Input: Bursty or smooth IP (H.265, H.264, or MPEG-2)  Output: HDMI
 Security scanned for vulnerabilities
 IP Input protocols: HTTP Live (HLS), UDP, RTP, RTSP, HTTP, RTMP (pushed from Flash server)
 Supports H.264 High Profile @ Level 4.0 (HP@L4)
 Supports MPEG-2  Supports 1080i, 1080p (30 fps), 720p, 480i, 480p, CIF, QCIF, qHD, H.264up and many others, and custom resolutions
 Supports HDTV output formats SMPTE-274M/SMPTE296M-2001, ITU-R BT.656
 Color Space: 4:2:0 for H.264
 Audio Input: AAC, MPEG Audio, or AC-3
 Audio Output: Embedded
 Remote GUI includes some scheduling
 Can be used to store or time-delay incoming stream with optional storage add-on
 SNMP, REST, SOAP support for remote management and monitoring
 Processor Supports Octoshape™ Client on GUI
 Supports DOZER™ protocol option
Applications
 Streaming video from remote sites from RTMP, RTSP, or HTTP compatible sources such as IP cameras or YouTube®
 Converting IP streams to HDMI wherever they may come from
 Feeding Live IP Camera Views into Multiviewers from Jupiter Systems and RGB Spectrum, etc.
 IP Camera Decoder  Axis IP camera decoder
 Octoshape™ end point