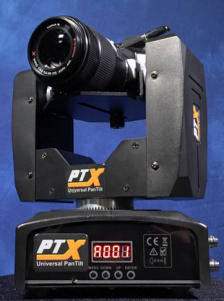 Cache Media, has announced the availability of the groundbreaking automated camera platform from RUSHWORKS. The RUSHWORKS' PTX Universal PanTilt head provides a new dimension of production functionality, supporting a range of LANC-equipped cameras including the latest CV350 5X 2.3MP Broadcast 5X Optical Zoom AF Compact Camera from Marshall. In addition to pan and tilt, the PTX fixture provides control of zoom, focus, iris, and record start/stop.
Because it supports full DMX control, it can be added as a fixture profile in lighting consoles and software, allowing the lighting designer to program scenes which include both lighting and video presets. Using the DMX console to control several cameras means that just one camera operator can control all the cameras, saving on manpower and keeping the stage area clear of unnecessary crew.
Cache Media MD Stuart Cameron explained: "Thanks to the RUSHWORKS PTX and the availability of small broadcast quality cameras like the CV350 5X, the job of producing a multi camera shoot, whether live or for recording has been vastly simplified. It means that an array of cameras can be set up and controlled by a single operator, like the lighting, via a DMX console. It has revolutionised the production of videos and live broadcasts, for example for a live music show, almost at a stroke!"
The PTX chassis has SDI In and SDI Out connections, with internal wiring that allows 360° rotation and 90° tilt without straining the cables. The PTX fixture uses standard DMX 3-pin XLR cable connectivity protocol, and supports IN/OUT daisy chaining on a universe with other DMX fixtures.
The PTX head provides DC power to the camera you select. Teamed with the Marshall CV350 5X this gives you control of the 5X Optical Zoom 4~20mm, F2.8~3.9, Precision Auto-Focus and with HDSDI, 3GSDI, HDMI and CVBS outputs. The CV350-5X offers resolutions of 1080i60/50, 1080p60/50/30/25 and 720p60/50.
For more information please contact Cache Media on Freephone 0800 033 6666