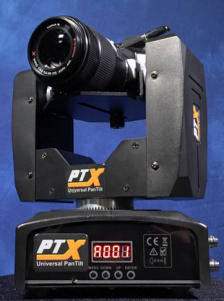 The chassis has SDI In and SDI Out connections, with internal wiring that allows 360° rotation and 90° tilt without straining the cables. The SDI In is used specifically with the Blackmagic Micro Studio Camera 4K, connecting the SDI out of an ATEM switcher to the camera for software control. The SDI Out comes from the BNC connection on a camcorder.The PTX Panasonic configuration supports DMX-to-Analog two-wire analog remote control for the company's production cameras.
Use the DOWN • UP • ENTER buttons to select the DMX fixture ID number in a lighting universe.
The PTX fixture uses standard DMX 3-pin XLR cable connectivity protocol, and supports IN/OUT daisy chaining on a universe with other DMX fixtures.For those not familiar with DMX wiring, the cables can be standard three-conductor shielded Male to Female XLRs … but the chassis Input connector is Male, and the chassis Output connector is Female, which is exactly the opposite from XLR audio panel connectors.
The PTX head provides DC power to the camera you select. Each head includes a small "tweaker" for setting the      voltage from 3V to 28V. There is a built-in three-digit voltage meter for monitoring the voltage as you trim the    adjustment.There is a small hole on the side for accessing the voltage adjustment pot.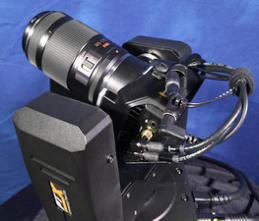 .
Please contact us for latest prices and information here.